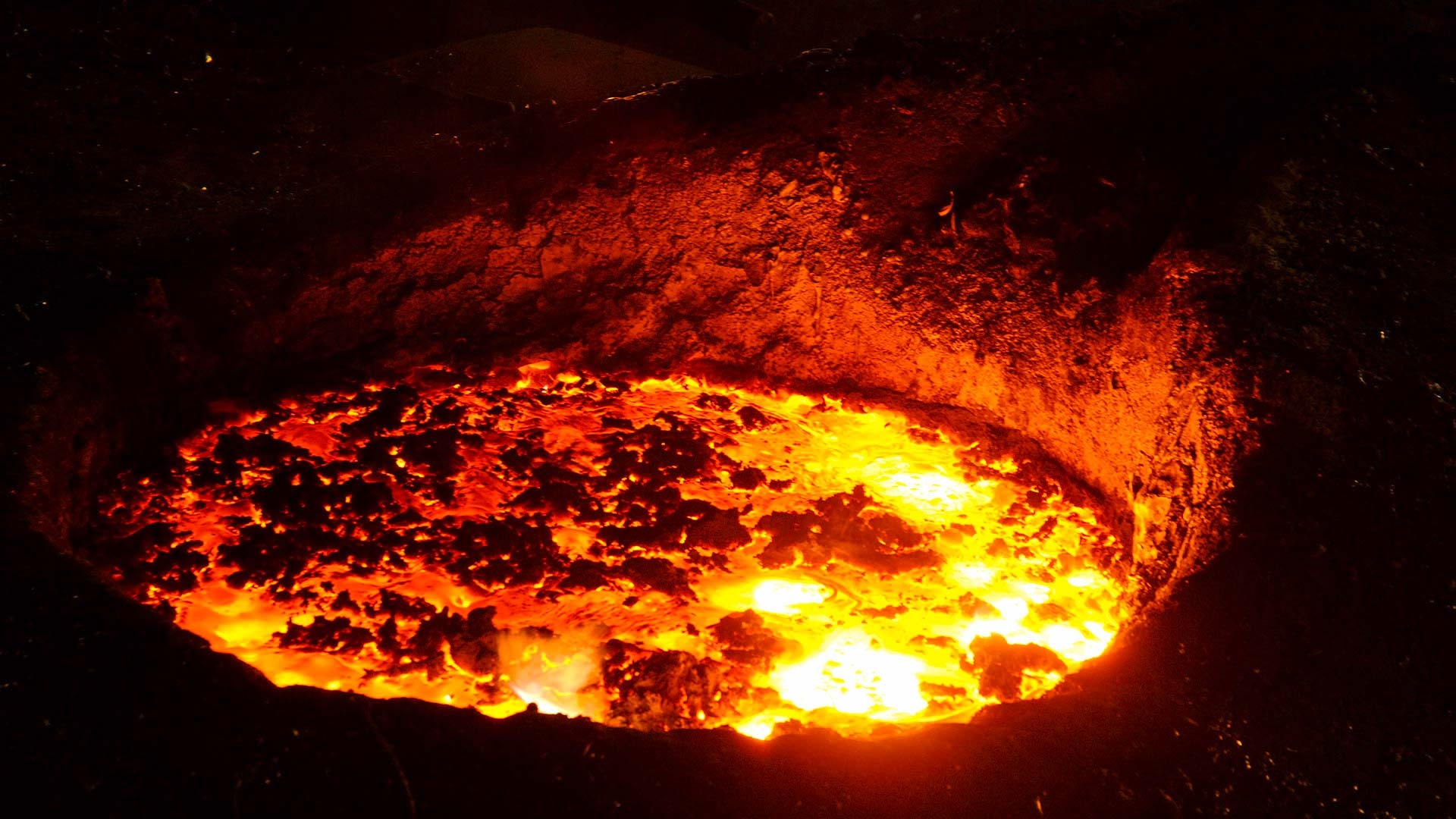 With a firm commitment to deliver on time we have the necessary equipment to manufacture our own bar and billet..
Our smelting process is carried out in induction furnaces of the highest technology which allows us to carry out the smelting and alloying of the metal in a fast, safe, and uncontaminated way.
The induction casting process is one of the most current technology for metal casting since the heating of the metal is uniform and the application of the electric current in the coil generates magnetic stirring in the liquid metal which homogenizes the alloy and promotes the exit of harmful elements and gases to the surface allowing its easy collection in the form of slag, therefore for being foundry through electrical energy, the emission of pollutants into the atmosphere is not generated, fulfilling our vision of respect for the environment.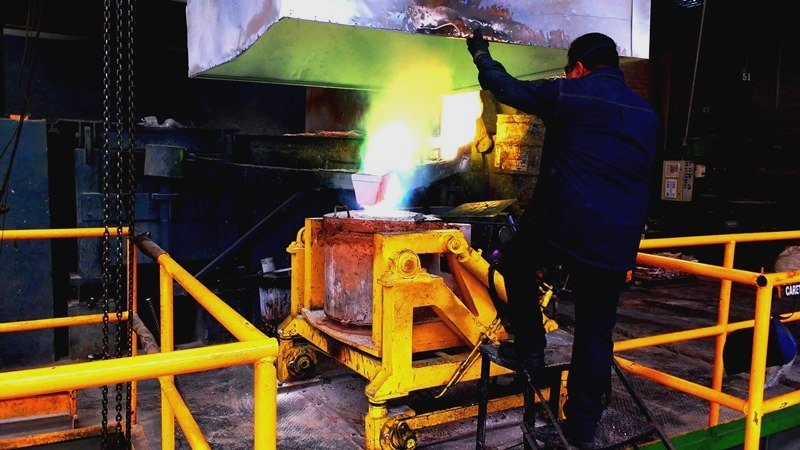 The continuous casting process, as its name implies, allows us to be manufacturing forging bars from 1/2" to 5" or ingot for extrusion free of impurities, pores and plugs, once the metal has reached its casting temperature it is transferred to a waiting furnace from which it comes out the metal in its lower part to a cooling chamber where with a graphite mold the measurement is adjusted and solidified using a serpentine with water passage obtaining a controlled cooling and generating the brass bar that can be cut automatically in sections of up to 4 meters long or ingot for extruded.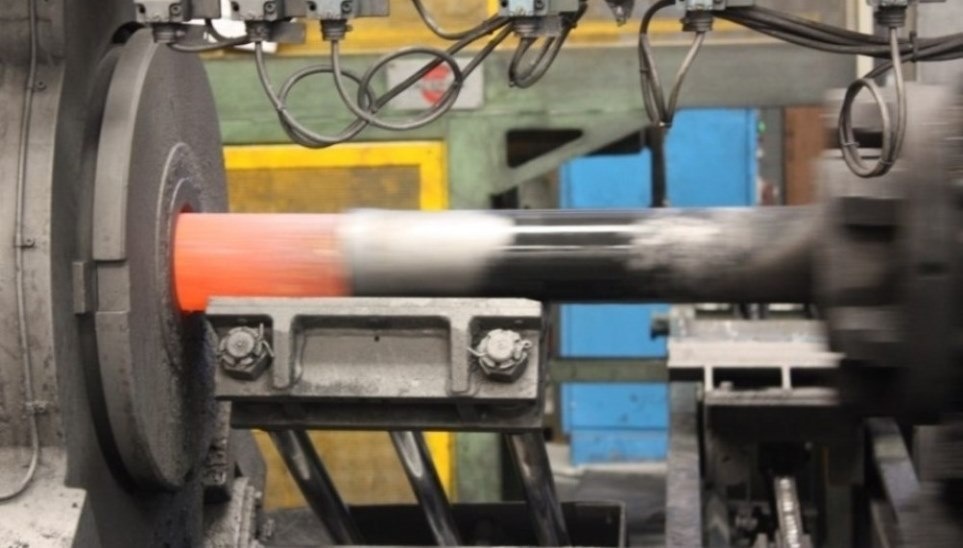 Extrusion is one of the most crucial stages of production, the extruder delivers bars and profiles that are stored awaiting deliver to the custom cutting section for forging.
The extrusion process for the 4" bar obtained in the continuous casting process, is heated again and then pushed through a die to obtain the final diameter, likewise we obtain a greater elasticity in the diameter changes since the measurement changes in the continuous casting took an average of 4 to 6 hours, in the extrusion machine takes 10 minutes, which allows us to increase our capacity to customer requirements.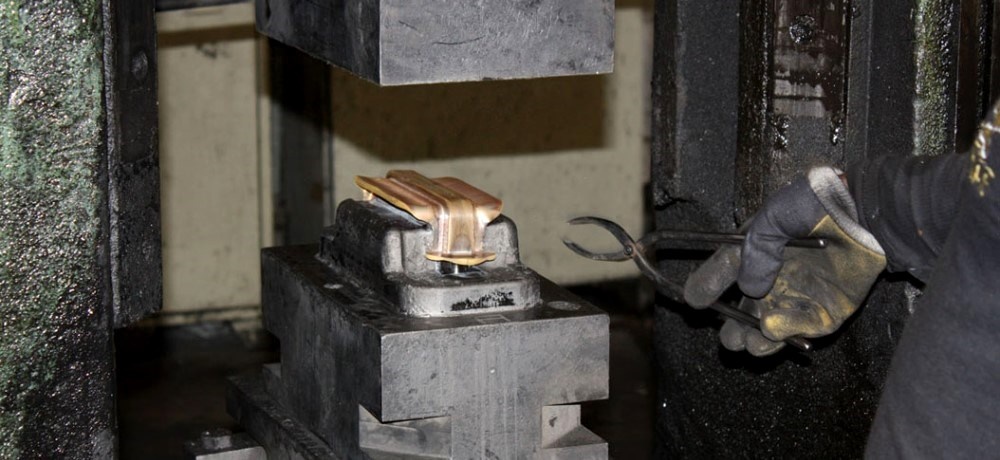 In Forjas Especializadas de Bronce, S.A. de C.V., we have a hot forging process which offers us the best results in uniformity and design for all the demands of our customers.

In the case of the brass forging, a piece of bar is cut according to a mathematical calculation, we obtain the necessary mass to fill a certain geometry in a steel matrix, this piece of brass bar is heated until obtaining plasticity and placing it in the matrix or die in which the geometry of the piece has been generated and the necessary load or pressure is applied, this is commonly called hit, in order to obtain the required piece depending on the weight, geometry, cavities and size to fill.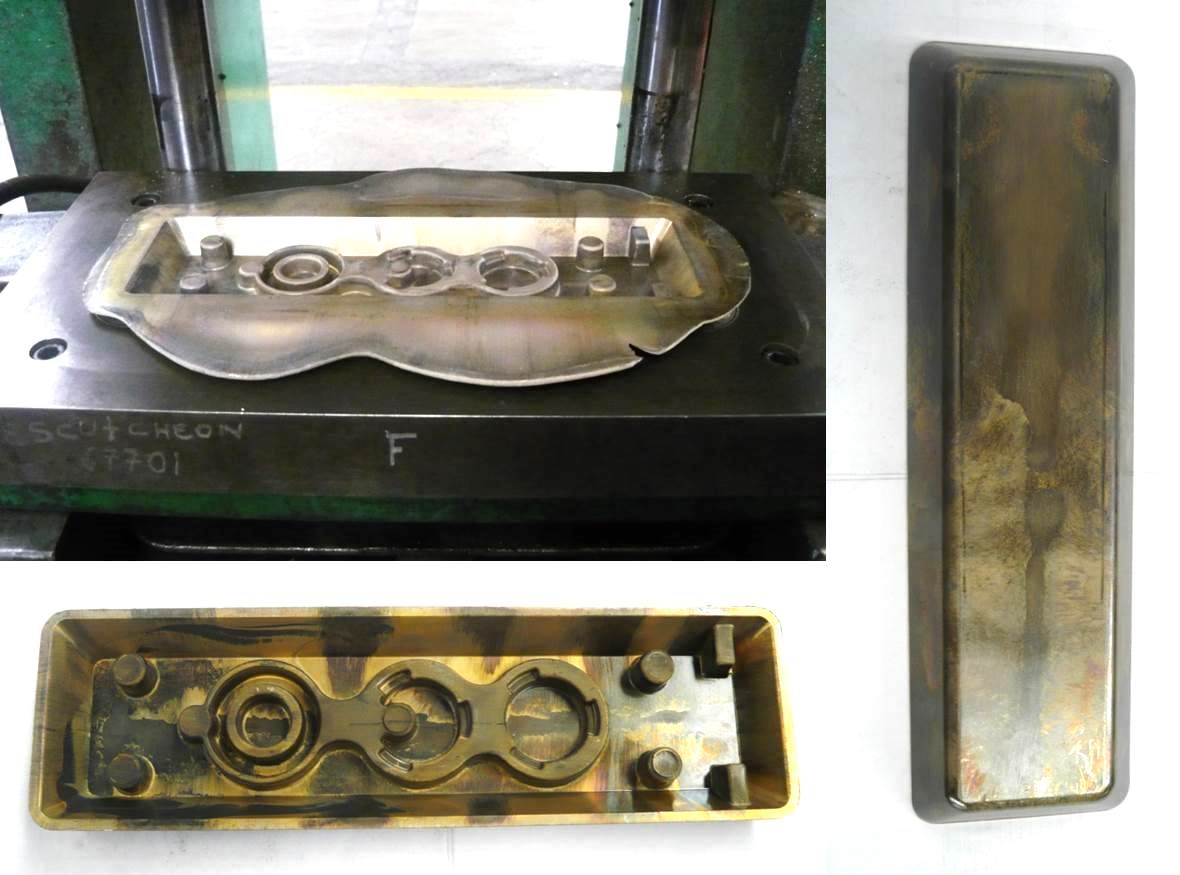 This process is required by standard in valve bodies and connections for gas and steam since, due to the compaction suffered by the metal microstructure, it remains free of pores, so there are no leaks in the bodies or connections, obtaining excellent dimensional repeatability. which allows the machining of large volumes in transfer machines at a lower cost.

In parts of architectural use such as components of locks, handles and door handles, a smooth surface is obtained reducing costs of sanding and polishing as well as homogeneity in the color of the metal and correct machining.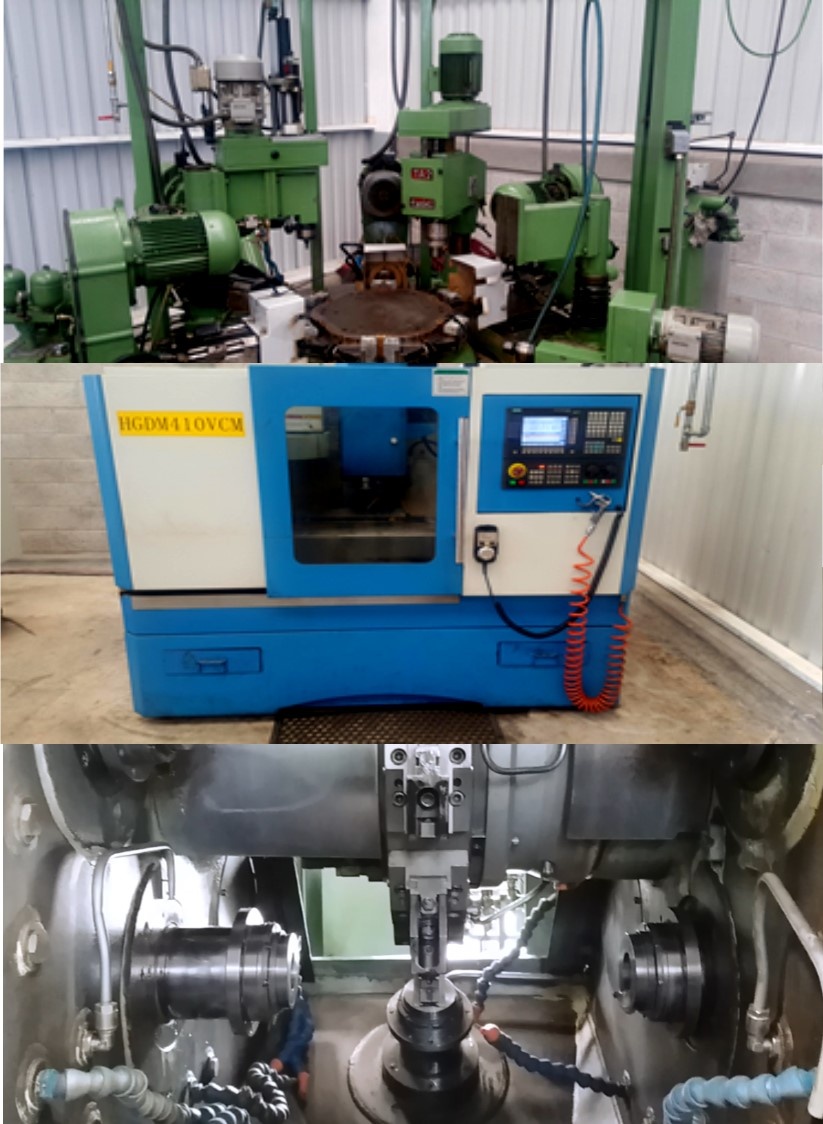 We work with cutting-edge technology for machining our customers parts..

CNC Turning Center (NL502S

NEWAY brand NL502S CNC lathe, 2 units were acquired in 2011, where each machine has a production capacity of 30 pcs / h.
Machining Center (HGDM410VCM)

HG & MDO brand vertical machining center, 2 units were acquired in 2015, currently has a production capacity of 80 pcs / h.
PICCHI Transfer Machine
1 PICCHI Transfer unit was acquired in 2016 to increase the production of machining exclusively for levers. Currently there is a production capacity of 150 pcs / h.
In 2017, 1 Gnutti Transfer unit was acquired to generate mainly multiple valve body machining simultaneously. Currently there is a production capacity of 360 pcs / h.
Machining center (HAAS-VF2)
Vertical machining center HAAS brand, a unit is acquired in 2019, currently has a capacity between 20 to 30 pieces /h.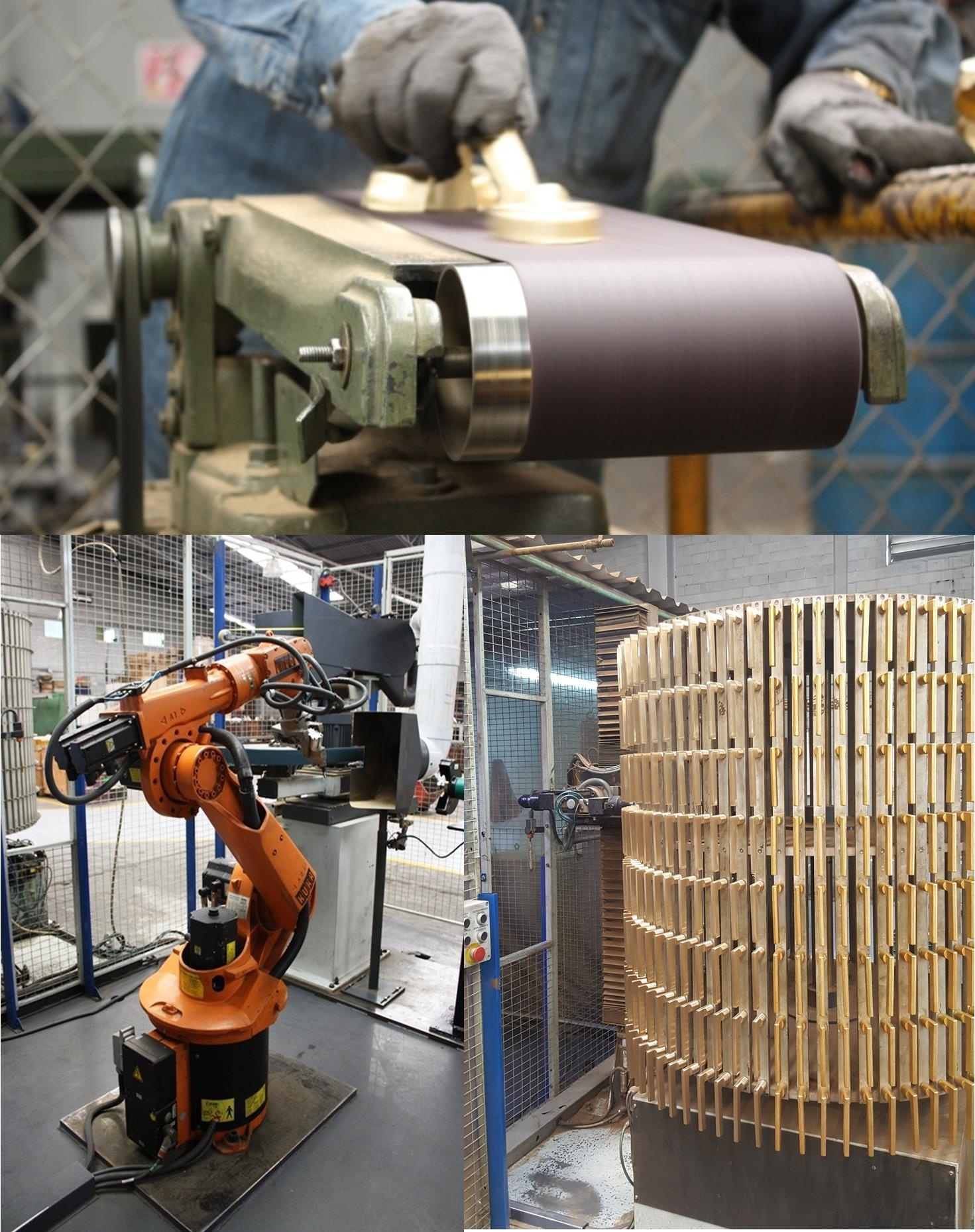 In Forjas Especializadas de Bronce, S.A. de C.V. we have a manual sanding and polishing center where parts in mirror finish are made | SNL mainly.
In 2013, a robotic polishing cell was acquired, which is exclusively for handles, its current production capacity is 28 pcs /h. With both processes (manual / automated) we can work large volume of parts, thus satisfying the needs of our customers.

In 2017, a new warehouse for the machining and polishing area is completed, which will improve production standards at FEBSA.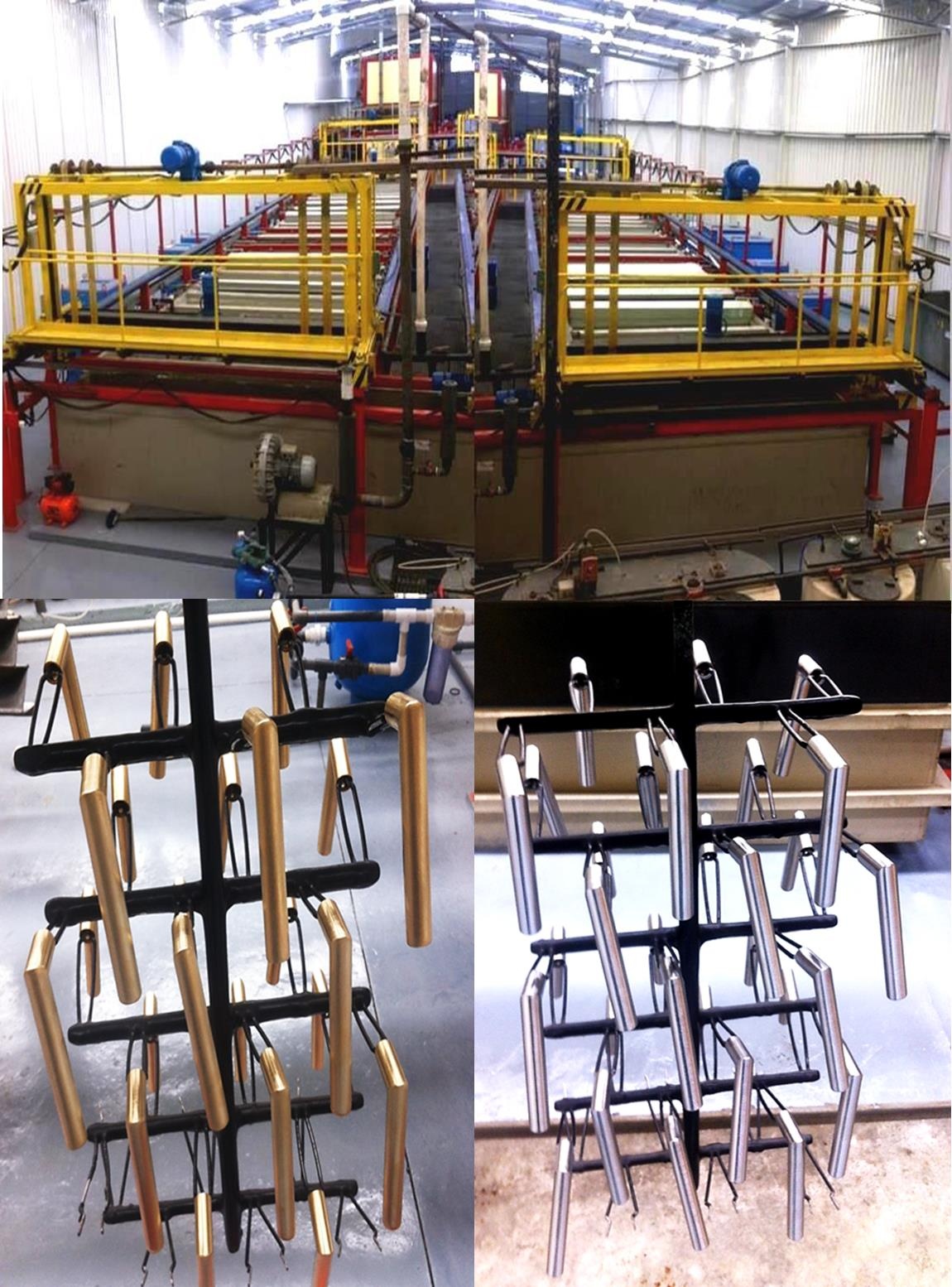 The finishing process is the application of a finite thickness of some material on the metal, the transformation of its surface by chemical and / or electrolyte to achieve an original metal oxide. This process is better known as Electroplating.
In order to give added value to our customers, Forjas Especializadas de Bronce, S.A. de C.V. acquires a plating line in Spain in order to offer our customers the option of forged and machined parts with nickel-plated, copper-plated, chrome plated coatings, among others.